Review of the Canon EF 70-200mm f/2.8 L IS USM Lens and
the Canon EF 70-200mm f/2.8 L USM Lens

Second Edition
The EF 70-200mm f/2.8 L is THE zoom telephoto lens to own if you are a serious Canon shooter. Its optical performance parallels that of prime lenses, and it offers incredible performance (resolution, contrast and bokeh) and versatility under most shooting conditions where a telephoto lens is needed.
I tested the IS version of lens against the non-IS version of the lens in 2004 initially and have updated the review in 2007 with newer digital camera performance results.
Strong points of both the IS and non-IS lens:

High contrast, high resolution images over a moderatly wide telephoto range
Good out of focus blur when shot wide open (bokeh)
Fast autofocus function with professional bodies

Potential disadvantages of both the IS and the non-IS lens:

Big and heavy (and costly)
Non-stealthy lens (camera shy subjects will see your big white lens and initiate avoidance maneuvers)
Strong points of the IS lens over Non-IS lens:

Better low shutter speed performance on still subjects due to image stabilization (more keepers in low ambient lighting)

Strong Points of the non-IS lens over the IS lens:

The non-IS lens is slightly sharper than the IS lens (especially at f/2.8).
The non-IS lens is less expensive
The non-IS lens is slightly lighter
Resolution Performance Data - The non-IS lens outperforms the IS lens
Lens resolution tests were run as described here.
The non-IS lens consistently outperformed the IS lens in resolution at 70, 85, 135 and 200mm focal lengths. I was initially surprised by the lower resolution of the image stabilized lens. However, after reading more about the complex construction of the image stabilized lens, it is not terribly surprising that an IS lens with 23 glass elements in 18 groups is not quite as sharp as a superbly sharp non-IS lens with 18 glass elements in 15 groups.
50% MTF Performance Data and Resolution Data- APS-C Camera EOS 400D Digital Rebel XTi
Methods for APS-C camera

The non-IS lens gives slightly better performance than the IS lens, especially when shooting at f/2.8.
Detectable Sharpness Differences in Film Images and Digital Images
I tested whether the resolution difference was detectable in digital or film images using an EOS-1Ds camera and an EOS-1n camera with Fuji NPH film and the lenses set at 135mm. Details of the test method are here.

EOS-400D Digital Rebel XTi - Daylight f/2.8 @135mm
2007 Test (From Bokeh Tests)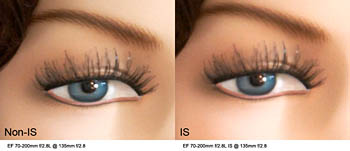 Tests run with an EOS-400D Digital Rebel XTi in 2007 showed sharper images with the Non-IS lens at 85mm and 135mm at f/2.8.
Bokeh and Background Blurring Function: Slightly better background blurring at f/2.8 with the Non-IS Lens at 85 and 135mm.
Image Stabilization Benefits - when you find yourself in low ambient lighting without a tripod.
| | |
| --- | --- |
| Image stabilization works as advertised for hand held work. A photographic series taken handheld at 200mm under a constant light source demonstrated that I could shoot as slow as 1/15th second and get sharp images with the IS lens. 1/60th of a second was as slow as I could shoot consistently with the non-IS lens and get sharp images. | |
Conclusion
For most photographic applications, either 70-200mm f/2.8 lens is an outstanding tool that produces exceptional image quality. Deciding whether to buy the IS lens or the non-IS lens should probably revolve around the photographer's perceived need to have image stabilization. Image stabilization does come at the cost of higher purhase price and slight loss of image sharpness (You won't notice it in most situations unless you shoot predominantly at f/2.8).
If you photograph stationary subjects in low light without a tripod, the decision to purchase the IS version of the lens is easy.
Relevant Specifications for the lenses from the B&H Photo Website and Canon-USA website
| | | |
| --- | --- | --- |
| | EF 70-200mm f/2.8 L IS USM | EF 70-200mm f/2.8 L USM |
| Price (Imported) | $1,699 USD | $1,140 USD |
| Weight | 3.2 lbs (1,470 g) | 2.9 lbs (13,10 g) |
| Size (largest dimensions) | 3.4 x 7.8 inches (86mm x 198mm) | 3.3 x 7.6 inches (85mm x 194mm) |
| Elements # in Group # | 23 elements in 18 groups | 18 elements in 15 groups |
© 2004, 2007 William L. Castleman
Posted 29 February 2004, Updated 26 June 2007