Performance Review of the Canon EF 50mm f/1.0L USM Lens
Comparison with EF 50mm f/1.4 USM and EF 50mm f/1.8 II Lenses


The Canon EF 50mm f/1.0L USM lens was evaluated and was compared to the EF 50mm f/1.4 and EF 50mm f/1.8 with respect to resolution, MTF and bokeh performance. The primary question I wanted to answer was: Would the 1.0L outperform the f/1.4 USM lens at f/1.4? The short answer is: No.
Comments on Lenses Used in Tests
Resolution and 50% MTF Performance Data
Link to Methods Used The graphs show the best value obtained with 3 or 4 replicates.
I also compared autofocus performance variability by taking 6 autofocus exposures with each lens at f/2 with an EOS-1v: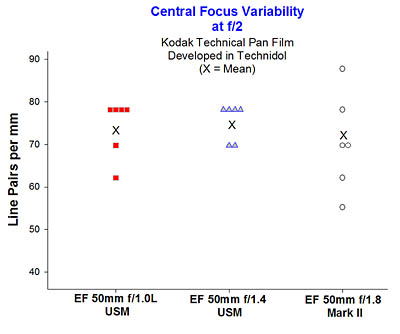 Bokeh
Click on the left image below to compare performance of the three 50mm lenses to diffusely blur backgrounds and to compare out of focus aperture diaphragm patterns in backgrounds. Click on the image on the right below to compare the EF 85mm f/1.2L to the EF 50mm f/1.0L for their performance in producing diffusely out of focus backgrounds.
| | |
| --- | --- |
| | |
| EF 50mm f/1.0L lens compared to other EF 50mm lenses | EF 85mm f/1.2L lens compared to EF 50mm f/1.0L lens. The combined telephoto effect and wide aperture of the 1.2L lens gives much more diffuse, out of focus backgrounds than with the EF 50mm f/1.0L at f/1.0 |
Linear Distortion
All three lenses have mild barrel distortion.
Lens Data
EF 50mm f/1.0L USM
EF 50mm f/1.4 USM
EF 50mm f/1.8 II
Lens elements/groups
11/9
7/6
6/5
Blade number in aperture diaphragm
8
8
5
Max diameter x length
91.5mm x 81.5mm
73.8mm x 50.5mm
68.2mm x 41mm
Weight
985 g
290 g
130 g
Motor
USM
Micro USM
Micro Motor
Price, $ USD
$2500
Historic, No longer in production
$310
$75
Summary / Conclusions
EF 50mm f/1.0L USM
This heavy, complex and well-constructed lens gave disappointing performance. I had hopes that it would provide excellent optical performance at f/1.4 for some of my applications. The EF 50mm f/1.4 lens at f/1.4 produced images almost indistinguishable from those produced by the 1.0L lens at the same aperture. At f/1.0, images were soft to the point of being almost useless for any uses I would have for images. This lens may be a collectors item because it is rare and no longer in production. However, because of its poor performance at apertures wider than f/1.4 and the improved performance of high ISO digital cameras, there is little or no photographic rationale to own one.
EF 50mm f/1.4 USM
I am not alone in considering this the finest EF 50mm prime that Canon has made to date. It is well built, compact and focuses fast. Optical performance (resolution, microcontrast and bokeh) is superb. It has the most accurate and consistent autofocus of the lenses tested.
EF 50mm f/1.8 II
This is a cheaply constructed (largely plastic, no metal mount) lens that is very small and lightweight. Optical performance on the lens tested was superb, although there was considerable more variability in autofocus function than with the other two lenses. I plan to continue to carry it in my lightweight kit with a 5x consumer zoom for times when I need to shoot unplanned portraits at f/2 or f/2.8. Users on internet photo forums report considerable lens to lens variability in quality. I appear to have purchased a great performer.
© 2005-6, William L. Castleman
Initially posted 23 December 2005, Revised 02 January 2006 and 26 February 2006